---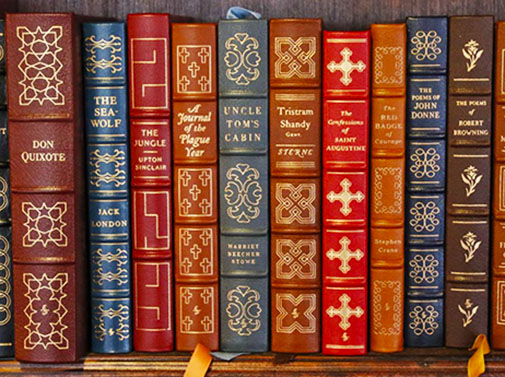 The first courses in our middle and high school literature sequence, L1a-Enjoying Literature and L1b-Enjoying More Literature, focus on developing and nurturing students' desire to read while teaching them to recognize markers in fiction that point to meaning as well as an introduction to plot analysis. See the article The Magic Pill for more details about the philosophy and research behind this course. This course also lays the foundations for recognizing a biblical worldview and much more.
The next course in our sequence, L2-Reading & Analyzing Non-Fiction, continues to reinforce the literary concepts learned in L1a-Enjoying Literature and L1b-Enjoying More Literature but shifts primary focus to reading non-fiction books, famous speeches, high-interest articles, thought-provoking essays, and the news of the day. Students learn to evaluate the credibility of sources, recognize the main idea, tone, and purpose of a piece, as well as to understand inferences, separate fact from fiction, and identify bias, propaganda, and errors in reasoning. It lays a strong foundation for the rhetorical analysis required in SAT essays as well the thinking skills necessary to separate truth from falsehood in the daily media to which they are exposed. Finally, it reinforces and builds the skills students will one day need to read nonfiction college textbooks. Students earn 1 1/2 credits for this course: one for literature and half a credit for informal logic.
Finally, because writings are most meaningful when studied in their historical, literary, and cultural contexts, our later courses introduce literature chronologically. Awareness of how literary works both shape and reflect the ideas and world around them deepens student understanding and appreciation of the classics, as well as provides insights into Western civilization's Great Conversation. Comparing the prevalent worldviews of both the times and the literature itself with a biblical one teaches discernment. Analyzing, synthesizing, evaluating, and reaching conclusions about the implications of an author's work for both his own time and ours today, as well as assessing worldview, teaches critical thinking skills and engages students with considering why the classics have withstood the test of time and the ways in which they are relevant, not only to the times in which the author wrote, but also to our lives today.
An honors component may be added to any of our literature classes. In addition to the many varied benefits conveyed by a study of classic literature, honors literature classes also focus on helping students to prepare for the AP® English Literature and Composition exams. These courses are as follows: