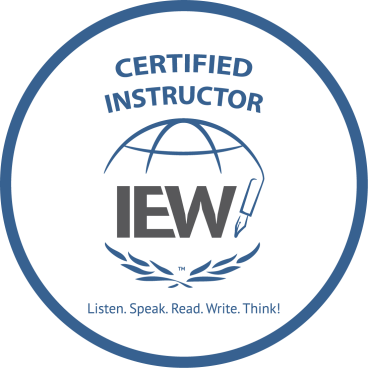 English 1 - Writing & Literature:
Writing 1 & Enjoying Literature
Live, Highly Interactive Online Classes with a Biblical Worldview
This course provides a solid foundation in both writing and literature with two 1 1/2-hour classes each week over thirty-two weeks covering the entire Units 1-9 of the Institute for Excellence in Writing syllabus and a thorough introduction to literature.

Literature classes foster a love of reading while teaching the foundational skills and concepts necessary to literary analysis. By focusing on shorter works, students can apply their developing skills many times and solidify them.

Classes also review grammar as needed. College Prep Vocabulary, a student favorite, is a fast-paced, fun class employing the latest research in acquiring vocabulary. Students earn points they use to bid on prizes at the end-of-year auction.


Writing
Taught by an IEW-accredited Certified Instructor, the writing portion of this course is designed to meet the needs of students with less than a year of instruction in the Institute for Excellence in Writing's (IEW) transformative methods. It equips them with the tools to write compelling and engaging pieces.
Why are IEW writing methods so effective?
IEW uses small, incremental steps that anyone can master and starts by focusing on a single paragraph. It then provides a simple method to overcome writer's block. Having resolved the challenge of what to say, your teen can then focus on how to say it. Adding one writing technique or sentence variation at a time allows students to practice each one until it is easy before adding another one. Thus, the reluctant or beginning-level writer learns not only that he CAN write but also that he can write WELL, fueling enthusiasm. On the other hand, the more advanced writer learns to produce the flowing and varied sentence structures and word choices characteristic of the more mature writer.
What will students learn?


Beginning with writing a basic paragraph, instruction covers Units 1-9 of the Institute for Excellence in Writing Structure and Style syllabus, which teaches students to


summarize and create short articles and short stories


write reports and simple research papers


plan & structure longer reports and research papers


write essays, formal essays, and critiques


use IEW dress-ups (techniques to improve writing style)


use IEW sentence openers (techniques that add variety to sentence structure and enable writers to produce flowing sentences instead of choppy ones)


use IEW decorations (techniques that add maturity, power, and interest to writing)


use MLA style sheets (necessary for college)

Strengthen grammar and punctuation skills as needed.

Improve each part of their writing process as they learn to


1. gather, read, evaluate, analyze, and prepare sources
2. brainstorm
3. plan and organize thoughts
4. create a rough draft
5. edit to improve organization, flow, clarity, artistry, and impact
6. proof their work to produce a final draft
Literature


This course incorporates research-proven features that fuel students' desire to read, including the ability to
choose much of their reading material (with parental oversight)
partake in a wide variety of interactive activities that build a reading community of engaged, excited readers
experience minimal disruption to the reading process from tedious worksheets and note-taking, which a growing body of research demonstrates kills love for reading


read a consistent amount of time, rather than a specific number of pages

Students are accountable for this time through group activities and discussions with their teacher and classmates. Evaluations include a series of Book Talks with the instructor in which students share and answer questions about the books they are reading.
What will students learn?


Students will learn and apply beginning-to-intermediate literary concepts using classic short stories, video shorts, the Bible, poetry, self-chosen books, and two books we will read together as a class: To Kill a Mockingbird and Animal Farm.


Students learn
six clues that the author has a literary purpose and has embedded meaning in chosen details, plot elements, and words. Students use these clues to improve their close reading skills and discover character attributes and themes.



to identify plot elements and employ plot analysis to uncover themes


to understand and recognize the many methods an author uses to reveal the personality and values of a character


to employ character arc analysis to recognize themes


to understand, analyze, and appreciate a variety of literary devices that add to the meaning and tone of a literary work

They learn to

distinguish the different points of view


understand how authors select points of view to accomplish specific purposes within their narratives


recognize the impact of shifts in tone and points of view


recognize symbolism and use it to uncover meaning in a literary work



learn basic concepts about how to read and understand a poem, something that is a mystery to many students


In every course, students learn to


understand the author's intent by deriving meaning from the text rather than from outside the text


evaluate an author's intent and worldview from a biblical perspective


recognize influence from a variety of worldviews


think critically, recognize faulty logic, and evaluate media and other resources


learn to appreciate the interplay between literature and the culture at the time it was written

Classic literature is timeless and becomes a classic because it addresses universal themes and truths common to man throughout the centuries. Additionally, a classic responds to the times, place, and culture in which the author writes. It often also becomes a transformative agent for change. Students begin to build awareness of this interplay.


All courses include a short four-week unit in non-fiction reading, media discernment, and logic to strengthen critical reading and thinking abilities. Using famous speeches, essays, articles, and popular media, students hone specific reading skills vital to the research process and their functioning as informed consumers of information. Many of these skills are directly tested in college entrance exams. More importantly, they are crucial to a thriving democracy where citizens must freely make informed choices rather than be manipulated by fallacious reasoning.


Students review


separating fact from opinion


recognizing slant, spin, and bias


evaluating a website for slant, spin, and bias


They gain heightened motivation to seek truth as they strengthen their ability to
read between the lines for both explicit and implied main ideas


recognize and evaluate supporting details for those ideas


analyze purpose and tone


recognize a variety of logical fallacies commonly used in modern media that can influence and manipulate readers
Instruction takes place in two one-and-a-half-hour classes each week over a thirty-two-week period. One class focuses on writing and the other on literature. Although Monday classes that fall on legal holidays assign homework, classes will not meet on these days so that families can celebrate long weekends together. Classes break for 5 minutes out of every 30.


Time to allow for this course: Students should expect to spend 4-6 hours per week preparing for class in addition to class sessions.
Enrollment closes on September 3 or when the class is full.
Instructor: Sandra Selling
IEW-Certified Instructor
Sandra@InspiredWritingandLit.com
https://InspiredWritingandLit.com
800.578.2527 | 941.676.3140
See the BEFORE ENROLLING tab above before beginning checkout.
Parent Involvement
Parents are always welcome to attend student classes or watch class recordings at their convenience.
Introductory New Parent Webinar


All new parents of students enrolled with Inspired Writing and Literature (IWL) for the first time attend a required introductory webinar to learn ways they can support their students at home and help to ensure their success. Here they also will learn what student progress to expect from their courses, how to monitor their progress, how this course contributes to meeting college admissions requirements, and the best ways to communicate with the instructor.
Returning parents are encouraged to attend if they feel the need for review.
A time for questions will follow the session. This webinar is offered once in the morning and once in the evening Tuesday, September 7, the first regular week of class. See the Academic Calendar for these dates and times.
School-Year Involvement


Parents monitor their students' progress during the school year to ensure they remain current with lessons and assignments. Grades and completed and edited assignments are always accessible online to both students and parents 24/7.
To maximize class time for learning, parents administer and proctor longer tests at home during a time convenient to them. Parents will receive both guidance and support in this if they desire.
Help for Parents and Students


I am readily available to both parent and student for consultation and help with current lessons during the week in my online office hours and at other times by appointment. I am also available throughout the school day via chat and video webinar through Zoom services. If you are unfamiliar with these services, they are provided to you free of charge, along with any help you need to use them. You will love the degree of teacher accessibility this service offers you and your students!
In my online office, I can see and type on your student's paper or share a book as we talk. They can do the same and can also write and draw on the whiteboard or document on my screen. We can find resources together on the internet or pull up any needed materials or papers from our computers. I can help with drafts, the organization of files in file folders. Occasionally, I even walk students through using helpful features on their computers. Parents are encouraged to join student consultations whenever possible.
Parent Group


In the Parent Group, parents will find a forum where they can ask the group or me questions and share information, ideas, and advice. I love it when moms, dads, or students from last year can answer questions or reassure newcomers from the perspective of one who has been there. Please feel free to jump in if you have something to add. Of course, if you have a highly personal question that would not be of interest to others, you may Zoom, call, book an appointment, or email me privately. Be sure to put the word PARENT or STUDENT in all caps on the subject line of any emails. Doing this will highlight your email so that it stands out.
See the BEFORE ENROLLING tab before checkout.